Finns are anything but religious. The majority of them don't go to the mass every Sunday, don't practice the rituals, I'm not even talking about their sins. If the authorities above saw the quantity of alcohol intake here, they would most definitely enforce a strict visa regime specially for Finns.
Interestingly enough, Finns do have some unique places connected to their religion. Who cares if they don't visit them often, there are  numerous travelers who're always glad to go on religious sightseeing.
Petajavesi Old Church is one of those places religious-tourism fans should pay a visit. I think it looks quite new, which is why it's a little hard to get the atmosphere. I think the best sensations are felt in ancient churches, because the religions practiced here are just as ancient.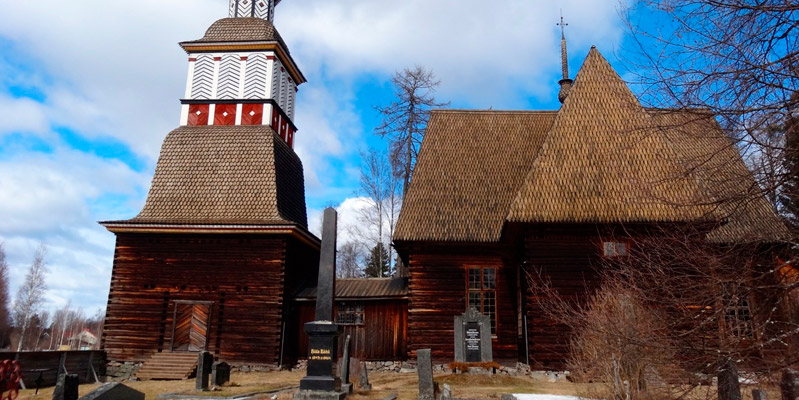 The construction of this Lutheran church dates back to 1763. It took only two years to complete the building, which was all ready in 1765.
There are two main styles used in the construction. The first one is the Renaissance ideology, which bares a few elements of the second style, the Gothic influence. The latter can often better noticed from the exterior design, It's unique but not exceptional. The style, or more specifically the mix of styles, used to be pretty common in Eastern Scandinavia.
The main construction material is wood logs. Perhaps, that's the reason why it looks so comfortable, just like your "sweet home". There is not much luxury inside, the best traditions of Finnish simplicity were kept devotedly. Even the altar is devoid of all kinds of luxurious decorations. The initiator of the project was a simple peasant master-builder, whose descendants expanded the church decades after the completion. The most important addition was the bell tower.
The ticket price is not very expensive. In fact, it's cheaper in summer than in winter. You have to ask them to open the gates for visitors in winter, which, naturally, requires some financial rewards . . . not for you.
Other than that, the admission fee will cost you €3-4. Another €5 should be added up if you want a guided tour.
Here's my personal problem with the admission fees for religious places that currently function. They should be free for everyone. I believe people who value faith, will agree to my viewpoint. What if you're a budget traveler with the last Euro in your pocket. Plus, let's say you're travelling alone and can't borrow the money from a friend. Should you not enter the church just because you're can't afford it?
Wrong, wrong, and wrong! Religious sites should be open for everyone, even for people from other religions, without any admission fees. I can bet the builders, the financial sources and the creators of those religions never thought of business, when initiating those religious movements, at least, that's what I would like to believe in.
Together with all that, there are no disability features, which makes you feel a little bad for those who can't run up and down the stairs. Thankfully, the people working in the church will be glad to help all visitors. No matter if it's about the admission fee or the stairs, ask for help, and you might get it.
There is a free parking lot not too far away from the church. You'll have to walk around 5 minutes to reach the destination, but at least your car is in a safe place.
If you're visiting Finland with a pet, make sure to keep it on the leash here. You don't want it to ran after the sheep all day long. Yes, you got it right, there are sheep around the church. You can feed them, play with them, speak with them, if there's anything you need to say. Visitors from urban areas will embrace the pleasures of rural environment. After all, you don't see sheep in the zoos, do you?
Some souvenirs can be bought from here. There are postcards, pictures, books, pens, and other items to remind you and others about your time in Finland. Besides, you can also order a souvenir. For example, if you want a specific scene on your postcard, place an order, and you'll get your own exclusive postcard.
There might be different events taking place in the church, starting from outdoor concerts to weddings. Moreover, I would highly advise you to go watch a few Finnish weddings.
By the way, Petajavesi Old Church was included in UNESCO World Heritage Site list in 1994. The church is worth a visit, because it looks different from what you've seen before (only if you haven't seen a wooden church before). If unique attractions is what you've been looking for so far, congratulations, you've just found one of them.
With all that in mind, plan your sightseeing carefully. If you're on a short-term visit, there are more important places to visit. If you've dedicated a few weeks or even a month to exploring Finland, include the church in the list. This place is for visitors who're particularly interested in religion and the Scandinavian culture. One more request, don't try to compare this church with other, more famous and luxurious churches of the world. Try to find the exceptional beauty.