Finnish culture is a very peculiar one. Moreover, it's probably the most interesting country in whole Scandinavia. There are so many mind-blowing phenomena here, that you will hardly manage to see all of them in a week or even two. If you don't believe me, let's bring out the examples of Finnish specialty.
Finns are a sauna-loving nation. They can do literally everything there. Doing business in a steam-room . . . all naked . . . is not weird at all. Silence is never awkward in Finland, talking too much is. The number of unconventional festivals is very big. If you can carry your wife long enough, you deserve a reward.
Have you ever listened to Finnish rock music. I recommend you start with Lordi. Fans of "The Lord of the Rings" will absolutely love the band, so did Europe in 2006, when the band won Eurovision Song Contest. I hope this is enough for you to understand how unique Finland is. If walking around Helsinki or other cities doesn't give you an idea of the traditional Finnish lifestyle,  include Seurasaari Open-air Museum in the list.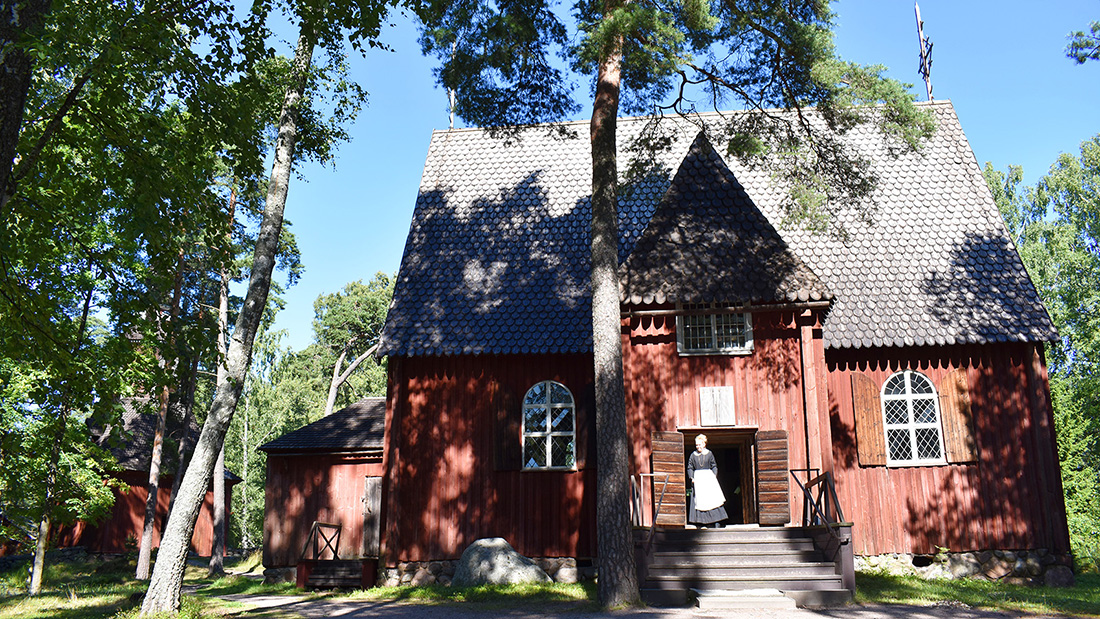 The museum was established in 1909, and it still functions. This is very rare; the museum is more than a century old. Seurasaari Museum is a few kilometers away from the capital. It's actually a collection of village houses. Finnish lifestyle is presented all over, around, in and outside of the village. The collection includes about 87 houses. That's quite a lot, isn't it?
The interesting factor is that the lifestyle doesn't include the urban traditions. Urban cities are usually influenced by foreign trends and don't represent the real character of the nation. The case can be proven in the majority of most developed cities around the world. This is why the museum focuses on the lifestyle in rural areas only. Having said that, it should also be mentioned that those rural areas are spread all over the country. This means that the exhibits are collective and don't picture the life of only one region.
Time period is limited to 18-20th centuries.  Despite that, you can also find buildings that date back even earlier. For example, the wooden church was built in 1686. By the way, the buildings also belong to different regions of Finland.
Remember how I said Finns are obsessed with sauna? Well, it turns out that it's not a new trend. Some of the old houses here also contain steam-rooms.
Knowledge of the Finnish language is not a necessity. Tours are available in German, Swedish, and English as well. The English one starts at 3:00 pm, so make sure to plan the day accordingly. The guides are a part of the museum, which is why they, too, have a traditional Finnish appearance. They all wear traditional costumes and accessories.
Concerts, festivals, and celebrations take place on a regular basis. Any one of them would definitely make your visit even more exciting, so check out the calendar beforehand. The museum has a gift shop, where a huge number of souvenirs are waiting for your purchase. There's also a small coffee place, where you can have your rest and enjoy the surrounding nature.
The ticket costs €8. If you're a student, a senior citizen, or in a large group, your ticket price will be discounted to €6. It's not a bad deal at all.
There are two days, when you can get in for free. One of them is on May 18, it's the International Museum Day. The other one is on June 12, the Helsinki Day. You have obviously missed the first one, but June is not over yet!
Make sure to take along a warm jacket. After all, it is Finland, and the weather is not one of the best you can find. A considerable part of the tour takes place outside of the cottages, it will be enough to catch a cold during your vacation (although it would be a good reason for spending the day in sauna).
If you don't want to visit the museum on a tour, take the map of the territory and go around on your own. As the main point of Seurasaari is history, you will not get too much information by just looking. It's more thrilling, when someone can explain the interior of the cottage and every item inside it.
The museum is located in a forest, so expect to see many squirrels. You would actually have a lot of fun feeding them. This is why take a few bites of something tasty with you. Squirrels will appreciate the treat.
Summer is, of course, the best season to visit this museum. You can spend hours outside, organize a small picnic, look around, and so on. However, winter is always beautiful. Trees are covered with pure white snow, the cottages are contrasted like a picture on a blank paper, and there's you, a curious traveler with a free memory chip in the camera. I'm sure you know what to do!
These are just preferences I and many others would choose, but it doesn't mean that other seasons are not suitable for the attraction. It's a truly fantastic place. Just like time traveling, you can go back for a century and see how Finns planned and lived their daily lives. Unfortunately, going to the past is the only option we have now. Let's hope the Finns will open another museum for exploring the future Finns soon.