Among the countries of the world, Finland has its special position. It's one of the most developed countries from which many countries draw lessons. It refers to a number of areas – be it its governing system, its close to perfect education system, its way of living and its views on life. From the point of tourism Finland might not be as popular as Spain or Italy but it's like a small gift box and those who dare to open it always win.
Finnish people appear to be cold at first sight but it's just a stereotype about them, just like most people think that Finland is under the snow veil all year round. Finland is a bit colder compared with most of Southern countries and it's fine because it is located in a different zone and enjoys different weather conditions but it does know what summer, winter, spring and fall are.
Aland Islands are one of the nicest parts of Finland. Note that here you will discover new Finland where people do not speak Finnish but Swedish. It's an autonomous region, which means that the provincial powers are exercised by its own government. It's also worth knowing that Aland means Land of Water and if you are planning to spend time in this land of water, then here are a few hotels to consider.
Havsvidden
Havsvidden Hotel is suitable for all travelers. The hotel offers its services for people with disabilities as well. It's just necessary to let the hotel staff know about disabilities in advance so that they can be properly prepared.
The hotel offers cliff houses, suite houses and rooms. The cliff houses come with two or three bedrooms and bathrooms, kitchen, TV, Wi-Fi and terraces with sea view. The cliff house prices start at EUR 432 per night. Pets are allowed but extra charge to the tune of EUR 100 applies.
The suite houses are a wonderful option for two – two people wishing to cut from the reality and everything and just be together and enjoy every moment. The suite houses include a big terrace, bathtub, sauna with a sea view (as you know Finnish saunas are something to try, of course it would be even better to learn the Finnish sauna etiquette), a sitting area and a bedroom. The prices start at EUR 360. Breakfast is included, however, pets are not allowed.
Compared to cliff houses and suite houses, the rooms are less interesting but not less convenient. The rooms are fully equipped and have most comfortable beds. Just note that the rooms are non-smoking. The cheapest are the standard rooms and their prices start at EUR 80.
Hotel Arkipelag
Hotel Arkipelag is a four star hotel including 76 rooms and 8 suites. If you want some luxury experiences, then you should simply book the suites, particularly two suites which include a sauna. If you need the romantic atmosphere and the passion accompanying you, then you should by all means book one of the two deluxe suites that come with Jacuzzi and a balcony with breathtaking sea views. All the rooms are equipped with balcony, mini bar, free Wi-Fi and IP TV. Bad news for smokers – it's non-smoking.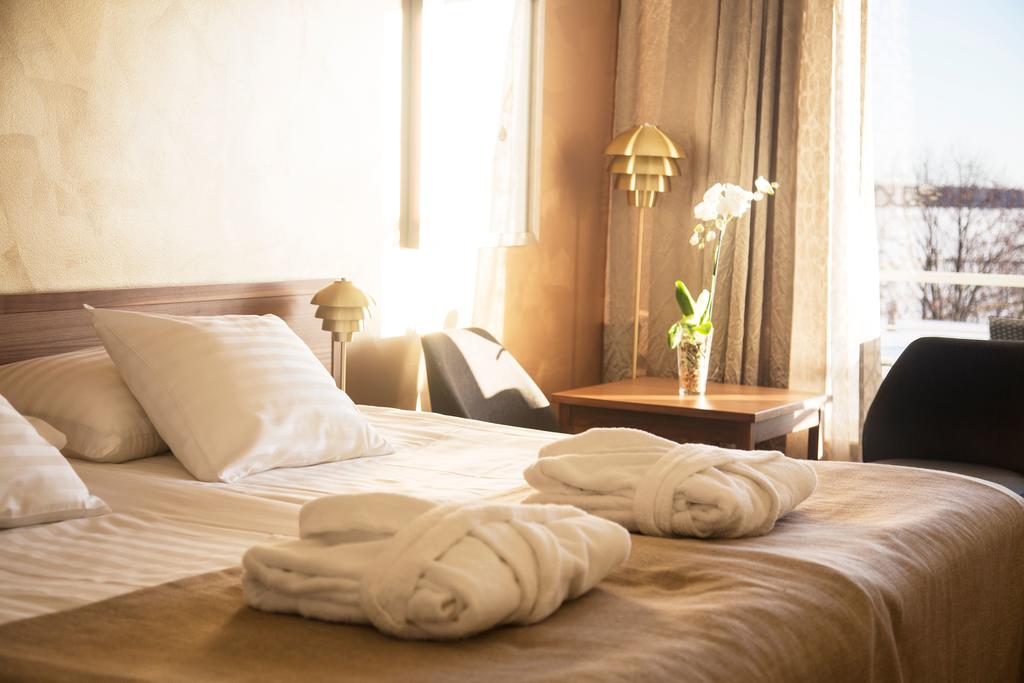 If you cannot afford the rooms with sauna, but want to know what renowned Finnish sauna is then you can rent a private sauna. It will cost you EUR 18 for one hour, EUR 25 for two hours and EUR 30 for three hours. If you are businessman by nature then you will obviously go for the 2 or 3-hour option. Note that the prices are per person.
Also for those who have always been interested in the art of casino, there is a wonderful chance to attend the hotels' casino school where they will master American Roulette, Oasis Stud Poker and Black Jack. Each group is usually comprised of 10 to 30 people and the trainings last 1.5 to 2 hours. The classes are not free of charge. They cost EUR 30 per person.
Interestingly, the check-in starts at 3 pm and the check-out is at 12 pm. If you have rented a car or are traveling by your own car, then you should know that the hotel has outdoor parking area. It's free of charge and is located by the hotel.